Air Duct Cleaning | Raleigh, NC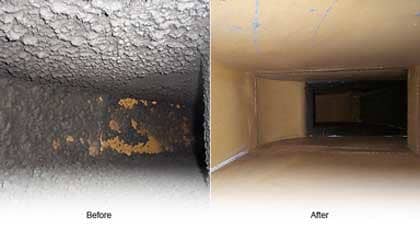 Did you know our homes are filled with a significant amount of air pollutants and contaminants? Just by performing our normal day to day activities, dirt, dander and dust accumulate throughout the entire house.
These pollutants are being circulated and redistributed throughout your home about 5 to 7 times every day by entering your home's HVAC system and spread through your air ducts. This contaminated air spreads from floor to ceiling and corner to corner in your house which makes it difficult for you and your family to avoid breathing it in.
Since the high levels of air contaminants, mold, and pollutants are so common in homes, this does not mean it is a life-threatening situation. However, it can be a serious concern if anyone in the home has allergies, is a young child, or is elderly.
If you want to be safe, air duct cleaning can help fix this problem.
Air duct cleaning is the cleaning of multiple heating and cooling system components, including the supply and return air ducts and registers, as well as the grilles, diffusers, and coils.
When you choose Home Services North Carolina, our highly-skilled technicians use specialized tools that will get rid of any mold, dirt, or debris found within your ductwork and other components of your HVAC system. Once the debris is loosened, our high-powered controlled equipment will remove it from your system.
Our Air Duct Cleaning Process:
• Powerful duct cleaning equipment for all duct types, registers, and grilles
• Improves HVAC system efficiency, which can reduce energy costs
• Removes years of hoarded dirt, mold, debris, and other contaminants
• All work is performed by professional, trained, and certified technicians
• We thoroughly inspect all ductwork for any signs of damage or leaks
• We follow the strict NADCA guidelines
Contact Us Today!
Trust the best to clean your air ducts. Give Home Services North Carolina a call at (919) 872-9088 to schedule an initial consultation and free estimate. We offer a satisfaction guarantee to every customer, ensuring you are completely satisfied.