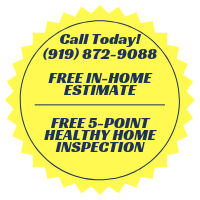 Home Services North Carolina is a leading provider of air duct cleaning, mold remediation, crawl space encapsulation, and attic radiant barriers in North Carolina. Our services are aimed at helping you create a healthy living environment inside your home.   Often dirt, dust, and mold can reside in hidden places throughout a home impacting your health.  For example, it's estimated that 19 out of 20 homes in North Carolina have mold.
Attics, basements, air ducts, and crawl spaces are notorious for hiding potentially harmful pollutants and contaminants such as mold. Dirty air ducts can circulate these substances which can impact allergies and other health-related ailments.  Other hazards can exist such as lint build up in dryer vents which can lead to potential fire hazard. Our other services like attic radiant barriers can help your home become more energy efficient and save you money.
Home Services North Carolina has the tools and experience to help clean your home, remove harmful elements, and provide measures to help you save on your monthly energy bills. Our expert technicians can diagnose and help develop a plan to eliminate mold and other potentially harmful components as well as help prevent it from returning. Contact us today!
Our Service Area | Call Today for an Appointment | Phone: (919) 872-9088

Reviews
kerry rauscher
2020-11-03
Great company
Miriam Hernandez
2020-11-01